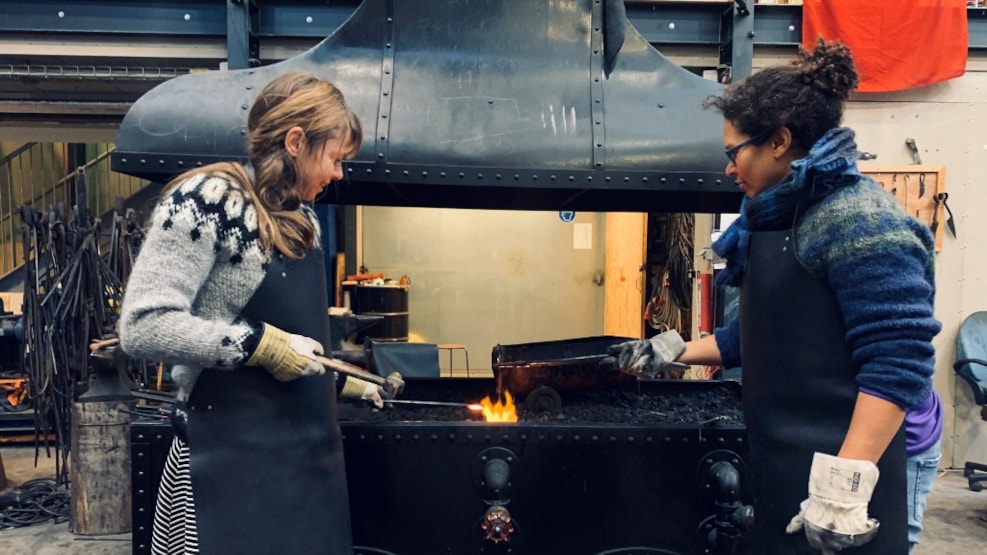 Blacksmith school at The old Shipyard
The Old Shipyard at Aeroeskoebings harbour offers you, your family and your friends a special experience in the big shipyard hall. Participating in one, or more, of our three courses – blacksmith, seamanship or copper – you can get your hands on some of the old craftmanship learning new skills and bringing your own creations home.
Come to The Old Shipyard and learn the craft from our own blacksmith Ibrahim. Together you will learn how to forge a cool hook at the open fire using the heat from the glowing charcoal. You can take the hook with you when you are finished.
Our workshop is full of original and old tools used by the blacksmith back in the days. Surrounding the fire you can see the anvils on which you will be forming your creation. Come in and find yourself surrounded by hammers, tongs, pliers and our big machine hammer, and see if you can make gorgeous things to bring home with you.
The courses will take place twice a day from 09.30 and again from 12.30 and have a duration of two to three hours. The fee is 150 DKK for each participant. Sign up by filling in the form at www.detgamleværft.dk (detgamlevaerft.dk), stating the type, date and number of participants. You will receive an email with information of payment which should be done before the course. We will also inform you if the course is full.
We look forward to seeing you at The Old Shipyard.