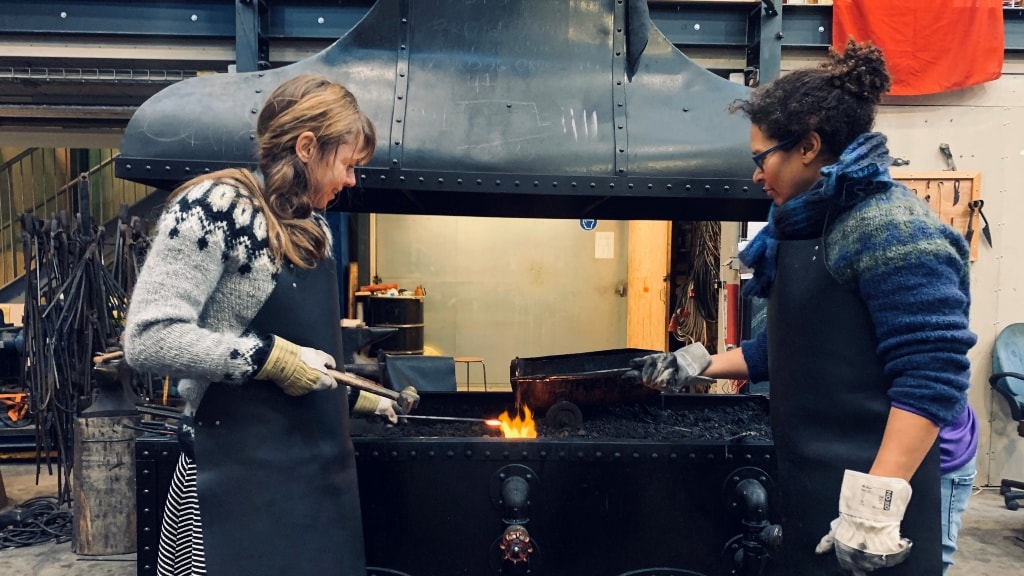 Knife-making course at The old Shipyard
Three days of knife-making with blacksmith Sven Brieske
You start by forging a knife blade in hardenable steel to learn how to forge in high-alloy steel.
Afterwards, you will learn the ace welding technique. Once it is in place and the time is right for it, we put 3 layers of steel together into a laminated knife blade. After forging, we go through the hardening and tempering process, and finish with the grinding techniques.
It is possible to work with different shapes for different applications. It will also be possible to forge an Iron Age knife.
The course is for everyone, as it is organized in such a way that all levels are catered for.
PRICE
Three-day course from Friday at 16.30 to Sunday at 15.00
DKK 2,000 incl. lunch
DKK 2,600 incl. breakfast and overnight
ABOUT SVEN BRIESKE
Blacksmith and teacher Sven Brieske has worked closely with Det Gamle Værft since 2014. Sven Brieske forges for ships such as Georg Stage, the Frigate Jylland and Skonnerten Fylla and is also known from TV shows such as Bonderøven, which is shown on DR 1.
PRACTICAL
Ferry departs at 15.05 from Svendborg and is at Ærøskøbing Harbor at 16.20, where you can go directly to the Old Shipyard and start the course. Accommodation booked through Det Gamle Værft is in a hostel, where you have a small room with a bed, shared shower and toilet. Bring your own linen. Bring work clothes you can leave in the yard to reduce dirt. Dining is everyday food that is traded in Netto and eaten at the yard.
REGISTRATION
Registration takes place per. mail: info@detgamlevaerft.dk