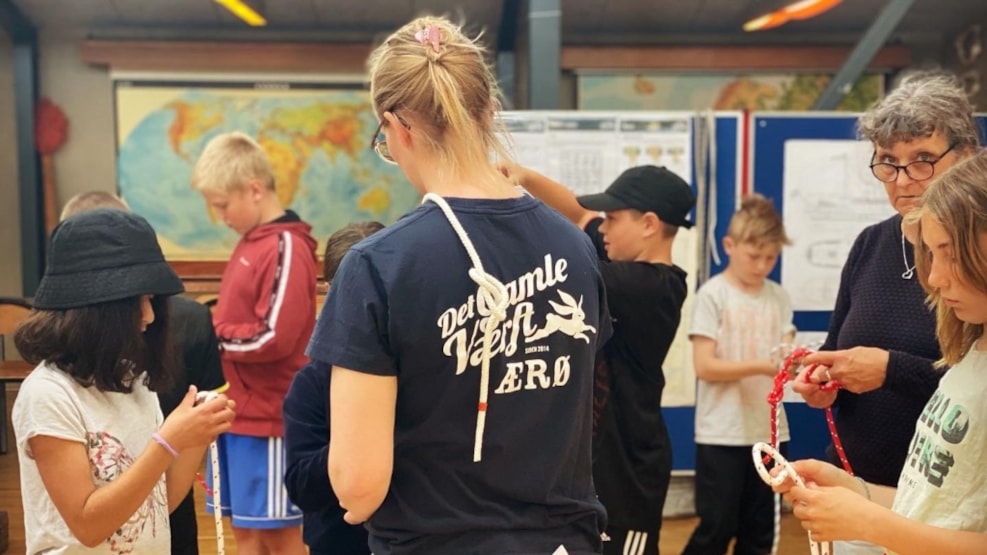 Seamanship at Det Gamle Værft
When on an island you must be able to handle practical seamanship! Our sailor Nicoline can teach you. She is a former pirate and has sailed the Bay of Biscay!
! A real sailor has always been good at his skill. You must be able to tie your vessel to the pier, fasten the roof of your cave and tie your baby brother properly to a chair. At the 2,5 hour course you learn how to make knots and hitches like a real sailor, and you will get to know good knots for everyday use.
You learn how to do a loop splice in a rope, a bow line hitch, a sheet-bend and other sorts of useful knots. You will receive your own rope for knots and hitches to take home with you.
The courses will take place twice a day from 09.30 and again from 12.30 and have a duration of two to three hours. The fee is 150 DKK for each participant. Sign up by filling in the form at www.detgamleværft.dk (detgamlevaerft.dk), stating the type, date and number of participants. You will receive an email with information of payment which should be done before the course. We will also inform you if the course is full.
We look forward to seeing you at The Old Shipyard.
EXPERIENCING THE OLD SHIPYARD
The Old Shipyard at Aeroeskoebings harbour offers you, your family and your friends a special experience in the big shipyard hall. Participating in one, or more, of our three courses – blacksmith, seamanship or copper – you can get your hands on some of the old craftmanship learning new skills and bringing your own creations home.