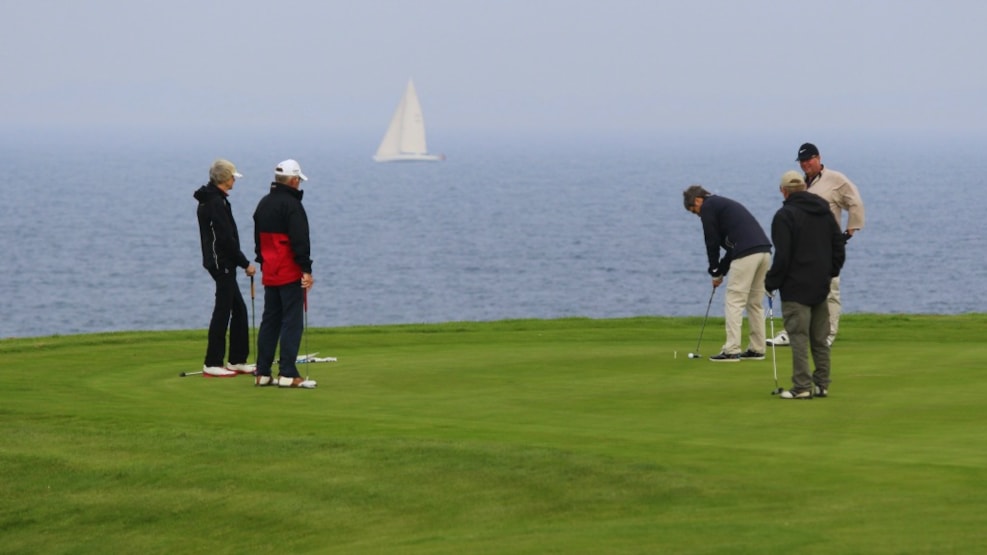 Daytrip with golf - all inclusive
Play a round of golf on Northern Europe's most beautiful seaside course
We'll take you all the way to Ærø and transport you from the ferry to Ærø Golf, located at the extreme western tip of the island - and bring you back after some wonderful hours on our island.
If you do not bring your golf equipment, you can borrow at the golf club on arrival.
Just meet up at the ferry in Svendborg, Funen Sea, Faaborg or Rudkøbing 10 min. before the scheduled departure time.
After a boat trip through the beautiful South Funen Archipelago, you arrive at Ærø, where our golf taxi is waiting for you at the ferry. After picking up your lunch bag with a sandwich and a water, you drive directly to the course where Ærø Golf is waiting for you. You book tee-off time at Golfbox. Ærøtours informs you of the expected arrival time on the course (depending on which ferry you take)
- Unless otherwise agreed you will be picked up again at the golf course at. 17:00 and transported back to the ferry port for transport back by ferry.
You can also arrange pick-up time with the taxi driver yourself.
A really good idea!
You can also choose to spend the night at Ærø and relax in the cozy town, Ærøskøbing - have a good dinner at a restaurant and maybe go for an evening walk with the watchman.
Contact us for prices at 4046 6675 or at golf@aeroetours.dk.
You get included in the price
- return tickets with the selected ferry
- lunch bag consisting of a sandwich and a water
- taxi transport from to the track at Skjoldnæs lighthouse and return
- green fees for playing on the field
- Optional: loan of equipment on the track golfballs and course guide can be bought for reasonable money on the course, where beer and water are also sold. Bookings can be booked on any weekday.