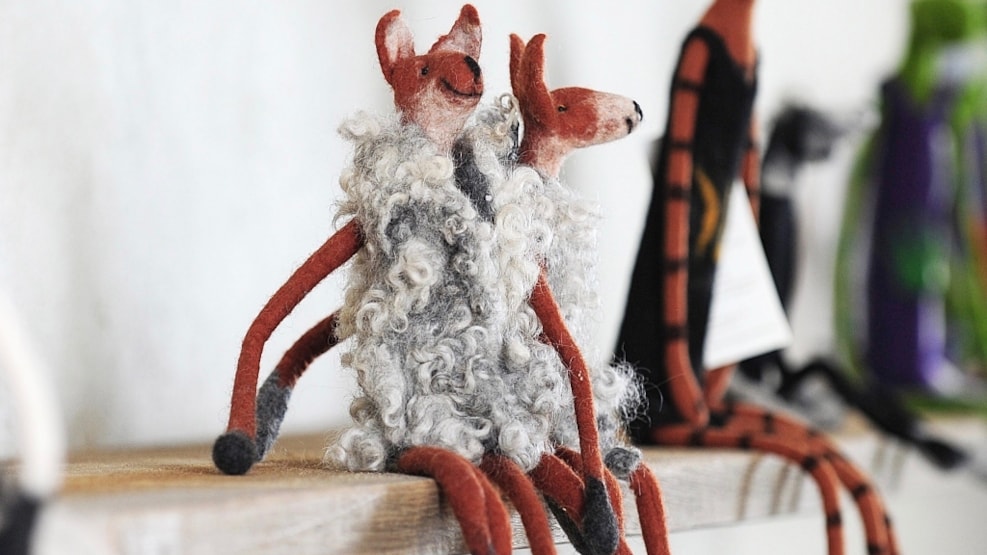 Henne, Gans & Co
Welcome to Henne, Gans & Co Farm Shop.
In the studio in Risemark you will see a selection of artisinally felt works created exclusively from the wool of live sheep from Ærø and Denmark: veggie skins, animals, animal heads and murals.
Karin Falter has been working as a felt artist in her own studio since 2008. She moved to Ærø in 2022.
The undersides of her handcrafted "veggie skins" are not actually animal skins - the naturally shorn fleece is held together by a felting technique.
The raw wool of the island sheep is processed by hand with water and soap without any other additives or
chemicals; the sheep continue to happily graze and produce a new fleece every year.
The veggie skins have a remarkable and convincing texture, as the wool feels similar to a shorn fleece due to the natural processing.
Each fleece is a unique piece of art with a distinctive apparence which reflects the regional diversity of the
sheep breeds and their wool.
Current opening times can be found on Karins website.