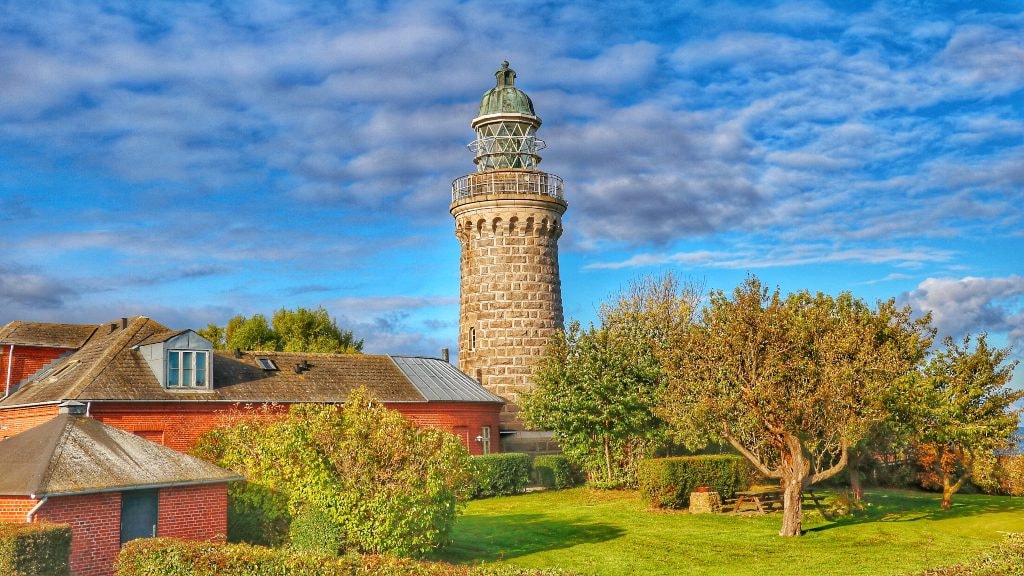 Skjoldnæs Lighthouse
On the northern tip of Ærø stands Skjoldnæs Lighthouse, one of the most beautiful lighthouses in the country.
The lighthouse was built in 1881 by Swedish stone-masons - some of whose decendants still live on the island. The Lighthouse is built of very finely cut granite stones and stands 32 metres above sea level. The light flashes once every 30 seconds.

There is a parking lot next to the lighthouse and from here a path down the beach. When we go down the path we have a hollow calles 'The Queen's Cavern' on our right hand. An old legend tells that a son of King Ure (after whom the tongue of land Urehoved next to Ærøskøbing is named) married the daughter of the king of Lyø. After the wedding which was celebrated extremely well, the young couple sailed away from Ærø. Unfortunately an autum storm surprised the newly married couple and they were lost. The young queen drove upon the naze here at Skjoldnæs, where there used to be a forest. She was buried here, so we call it 'The Queen's Cavern'.
There is access to the lighthouse from sunrise to sunset for a modest entrance.
The old lighthouse is today clubhouse of Ærø Golf Club