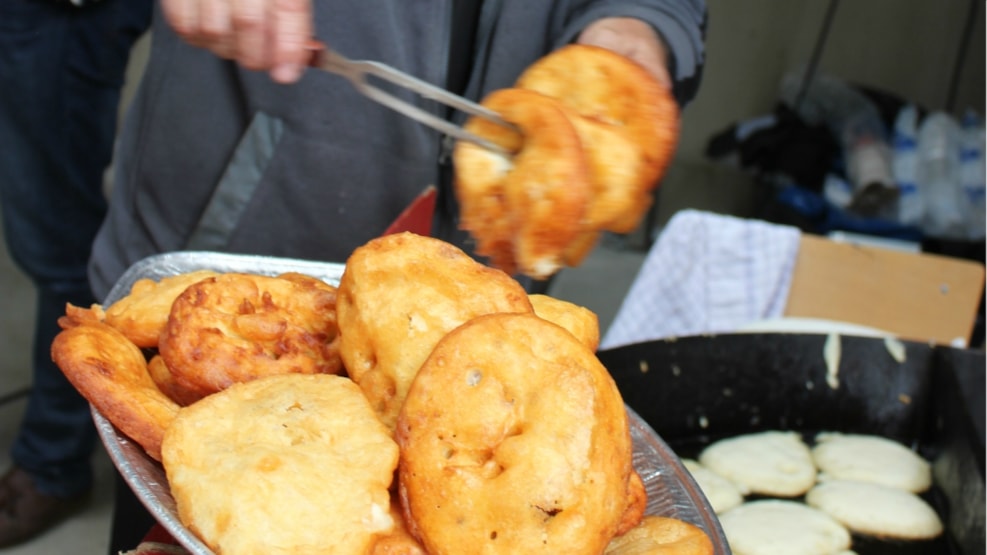 Thick Ærø pancakes
They are thick, airy and fried in lots of fat, the Ærø pancakes - and they taste heavenly.
'Løvtens Paa'kar' is the name for the thick Ærø pancakes, that lift raises.

The traditions around the pancakes are many, the recipes vary and the accessories are hard to agree. Ærø Pancakes is an island specialty after an old original recipe. They look like cakes, but are very crisp, delicious and airy - a very delicious regional dish!

At Ærø they are often served to town parties and markets, but you can also find them in some of the islands restaurants.
Here is a recipe for thick Ærø pancakes.

Ingredients:
5-6 dl. milk
25 g. Yeast
500 g. Wheat flour
1 teaspoon teaspoon. salt
6 eggs
1 kg. pork for baking


The process:
The milk lunes and the yeast dissolves in it.
The eggs are divided and the egg yolks are added one at a time.
Flour and salt are mixed in.
The egg whites are whipped stiff and turned gently into the mass.
The dough is stiff and now raises 1 hour, with a clean cloth over. Remember to use a large bowl.
Baking:
The pan must be evenly full of greasy and baked with good heat.
There are 3 pieces. on the forehead at a time. Use medium sized deep fryer and back until golden brown on both sides.
They are then put on greasy paper.
Can be served with eg. apple, raspberry or gooseberry compote or jam.