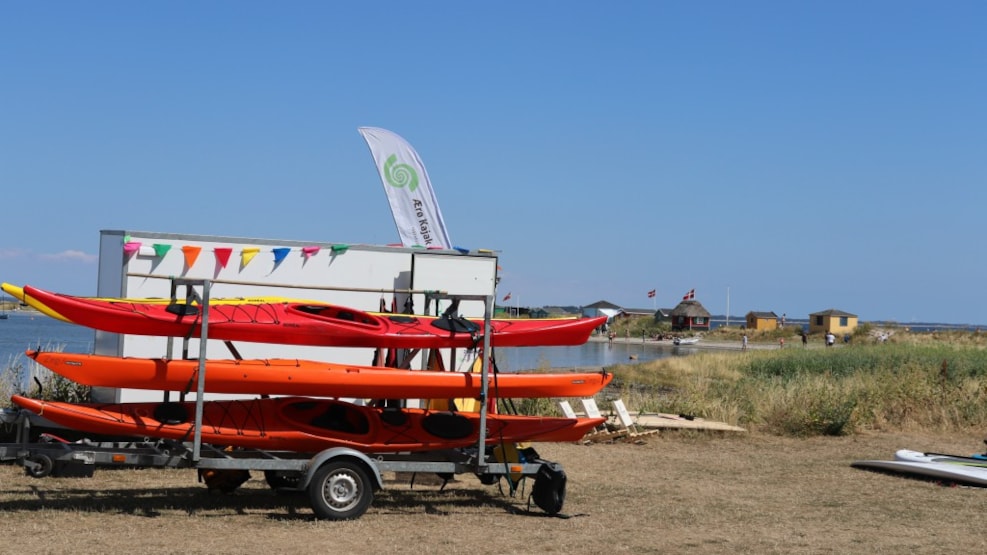 Ærø Kajak og SUP
At Ærø Kajak og SUP, you can rent kayaks and SUP boards.
If you are completely new to kayaking or stand-up paddling (SUP), you will receive a brief introduction on land before heading out into "Det Lille Hav," a protected and safe lagoon at Eriks Hale Beach in Marstal. If you want to learn more, you can book an instructor hour or two.
Ærø Kayak and SUP are based in Marstal, but if you rent more than two kayaks or SUP boards for at least half a day, Thea and her team are happy to deliver to other locations on the island, if it fits into the day's schedule.
Contact Thea to arrange the day, time, and location, or just show up at Eriks Hale in Marstal, where you'll find Ærø Kayak and SUP's rental stand on selected days. Stay updated on Instagram and Facebook.
Check Facebook, where Thea updates if the weather is too bad, and the rental stand is therefore closed.
Guided Tours & Courses
With Ærø Kayak and SUP, you can take both shorter and longer courses (IPP1-IPP2), join guided tours, or go on your own expedition in the South Funen Archipelago, but only for individuals with experience.
Learn more about guided tours and courses on the website.
Sauna & Sauna Infusion
Thea also has mobile saunas available for rent.
From here, they organize events such as sauna infusions and sauna Sundays in the cooler months.
Stay updated on Facebook, where events are posted.
On the website, you can also read more about how to book the saunas and possibly a sauna infusion master.