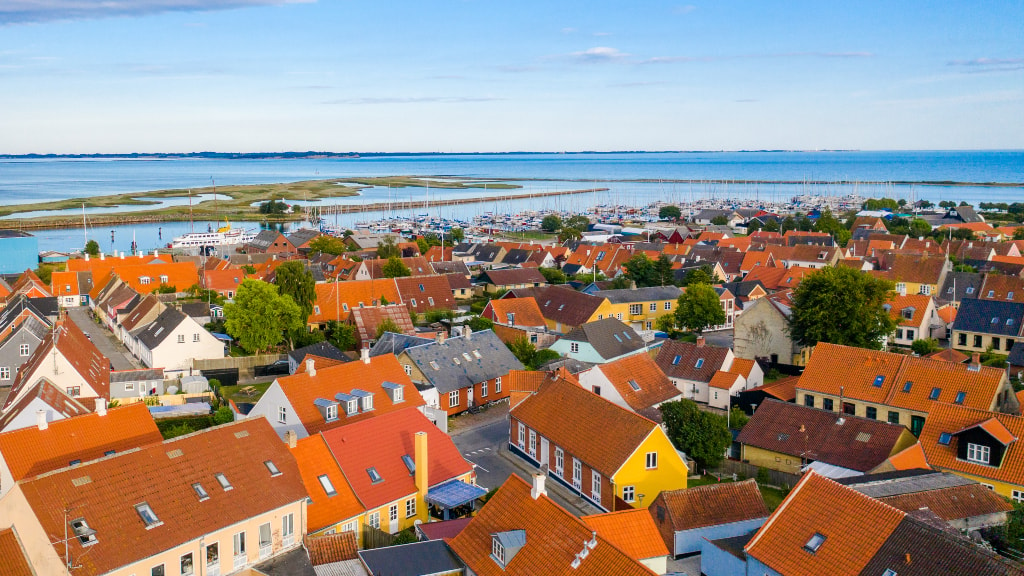 Marstal
Marstal is Ærø's absolute center for shipping and sailing, and at the same time the island's largest city.
Marstal - sea foam and maritime atmosphere.
The town is located on the outermost eastern side of Ærø in a natural harbor protected by the Erikshale Peninsula and an extensive stone pier built in civil disobedience by the seamen in that time as protection for the city's fleet of wooden ships. 
In the beginning of the 17th century, Marstal was a major fishing village, but when Ærø was divided between four dukes, the area was managed by Duke Christian, who set off well in the growth of the city. Since trading at that time only had to take place through the towns with town charter and Ærøskøbing was the only one on the island, Marstal had to go illegal ways to create growth. This was incredibly lucrative for Marstal and yards opened in line to meet the need for a national merchant navy. Thus the foundation stone was added to the maritime power station, which later became - and still are - Marstal's nobility.
In the city you will find Navigation school, one of the largest in the country, has more than 150 years in the business, Marstal Boatyard, a number of shipping companies, maritime insurance companies and other maritime companies - and not least: Marstal Maritime Museum: This pearl of a museum is a well-trained treasure chest of seamen tales who attended, literally and loyally tells and documents the long and exciting maritime history of the city. Marstal is by far the most active city of Ærø, with young students and many families with children.