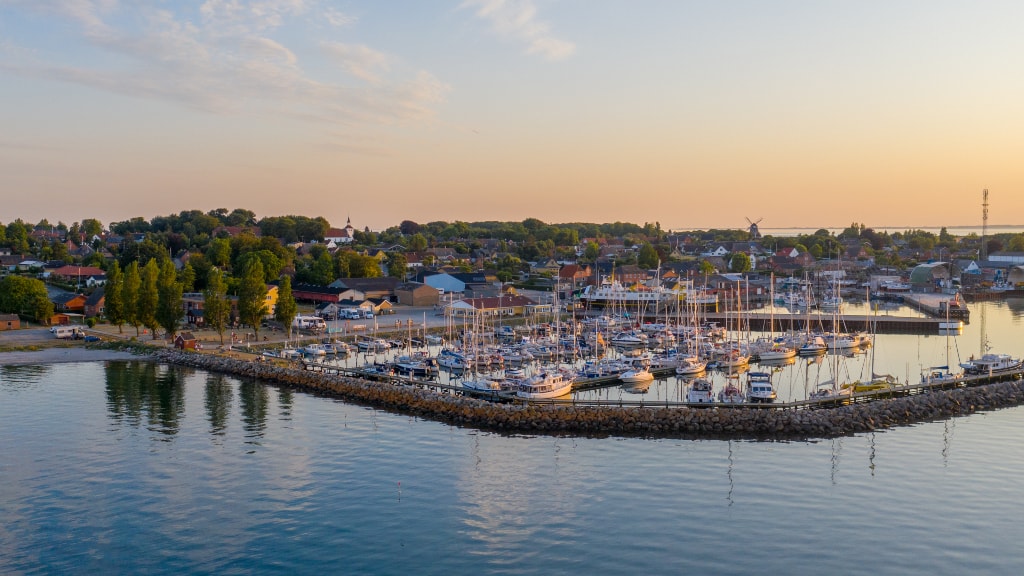 Søby
Søby is Ærø's gate to Europe. From here two ferry routes; to Fynshav on Als and Faaborg on funen, respectively. This is the home of Ærø's fishing fleet. 
The turning point in Søby is the harbour that greets visitors from the sea welcome with her two beautiful and characteristic lighthouses. Yachtsmen can delight in a modern marina with great views of the archipelago. Søby marina is both well operated and charming  with all facilities.
In the town you will find a bakery and café with bread and cakes made through and through of good ingredients. Dagli' Brugsen is the heart of town with long opening hours and a large selection of locally produced goods, staple goods and fine bargains. Søby also offers bicycle rental, wine bar, holiday flats, B&Bs, furniture store and a café overlooking the busy environment of the habour.
Søby offers lovely summer memories for child families and presents a challenging playground at the habour, a centrally located mini golf course and a beach with clear water, sandy bottom and a bathing jetty.
The Søby sorroundings offer small roads of limited traffic that lead to idyllic villages, charming farm shops, interesting sights and great vantage points. A fine tour whether by car, bicycle or on Shank's mare - leads to Vester Mølle which stands in a pastoral idyll only a few kilometres from Søby. A few kilometres further on you will find yourself at Søby Volde, the ramparts located next to the 'castle' Søbygaard Manor House.
For anglers the area is a genuine eldorado. Nowhere else do you find prettier cost stretches and the Skjoldnæs bottom conditions make the tip of Ærø an exquisite angling point.
Cyclists can anticipate challenges in the area around Søby and this is the reason why most genuine cycling enthusiasts choose to battle the alps of Ærø.
Søby is also the platform for wonderful experiences in nature for hikers.